Tick tock. Tick tock. Is it time you joined the Content Revolution?
Last week, I went along to How to Be An Effective Content Marketer, a seminar at which Ed Pank was one of the keynote speakers. A passionate brand champion, Pank has led the brand strategy for some of the world's leading brands: Sony, Heineken, Nokia, Land Rover, Schweppes, Lego and Marks & Spencer. He is currently the Managing Director of Warc Asia Pacific.
Pank presented case studies from Warc's Content Revolution Trends Report, covering key themes and trends in content marketing, focused on how brands are using digital content formats. I was so inspired by Pank (and his case studies), that I couldn't help but share some of his insights. But, before we delve into his insights, Pank very kindly took time out of his busy day to answer some questions for us…
Q. How has the value of content changed over the time you've been in marketing?
PANK: The value of content has changed dramatically in recent years because with channel fragmentation and increased competition for attention it has made engagement more important than ever, particularly when it comes to targeting young consumers. Marketers have been talking about engagement for over a decade now, but content marketing enables richer and deeper engagement and access to a wider array of channels allows brands to reach consumers more frequently than through ad campaigns.
Q. What are the biggest industry challenges that you foresee?
PANK: Proving the return: that any content marketing has had a positive impact on business and brand growth, which in turn helps to make the case for a continuous content marketing approach as opposed to dipping the toes in the water now and again.
Q. What is the most important aspect of a content marketing strategy?
PANK: Having a strategy is a good start because research shows that most clients who are doing content marketing don't actually have one! Setting clear objectives so that the results can be clearly measured and understanding your target audience so that you create content that will genuinely engage. By that I mean pull don't push. Pull marketing offers a value exchange between the customer and the brand, whereby what the brand is offering is so compelling that the consumer is willing to exchange their attention, interest, loyalty and sometimes even money to interact with a brand. Brands need to work out the pull factor for their content marketing.
Q. What is the main reason for content marketing failure?
PANK: It all too easy for brands to default to what they want to say about themselves and their products and launches (push marketing), rather than working out the genuine interests of their target audience and producing content around that, that has a much higher chance of engagement.
Q. What is the most effective way to get senior management buy-in for content marketing?
PANK: Share best practice and case studies of how other (competitive) brands are running effective content marketing strategies. Another good tip is to get senior management buy-in to allocate a portion of the budget for experimentation and innovation. Then with a clear set of objectives and measures in place, it's much easier to make a compelling business case for more budget.
Now, without further ado, onto Pank's insightful presentation…
Pank's Six Approaches for Content Marketing
According to Pank, there are six main approaches that can be used when it comes to content marketing strategies. The right approach for your brand is contingent upon a number of variables: your target market, your brand, the type of product or service you supply, your resources, your budget.
Be Campaign Led
In this approach, your content marketing efforts are focused upon a specific campaign. Much more akin to more traditional advertising or communication efforts, content marketing that is campaign led shares a single theme or idea. This theme or idea sets the tone for all content. This content then appears across different media during a specific time frame.
Pank used the example of ONLY – a Danish fashion brand. In order to launch their 2012 jean collection, ONLY wanted to create a whole new way for their teenage audience to interact with the brand. The result was The Liberation: an online, interactive film experience. It is a fashion catalogue, a movie, a game, a music video and the world's first on-demand video retail environment.
At any time, the viewer could click on the video, pause the movie, and view an interactive fashion catalogue and online store. A bespoke catalogue was then generated for each viewer at the end of the movie.
ONLY had over 280,000 unique visits within two weeks and 442% increase in interaction with www.only.com.
Be Social Led
If your brand already has a strong social media following, then a social-led approach to content marketing could be highly effective.
Pank cited the example of GE. Beth Comstock, the CMO at GE, describes the company as a "content factory". It shares opinions from its economists and hosts infographics of its data across all its social media channels. GE readily embraces new social media platforms to host its content, ensuring that it maintains its reputation as an innovative, cutting-edge brand.
Leverage your existing social media channels to generate user-led content. Use YouTube to host video contents, Pinterest to run Infographic competitions, and Instagram for photo tournaments. Fan and follower involvement (through competition participation) has the added benefit of increasing engagement with your brand.
Be Customer Led
According to Pank, we should be mapping content marketing across the customer lifecycle. Just in case you're a little rusty, there are three main phases within the customer lifecycle: acquisition, conversion and retention.
Acquisition
In this phase, you need to use content that will capture the attention of your customers. Content that will hit your customers right between the eyes. Content that is entertaining or inspiring. Or content that is useful. Content that helps your customers do something (usually in the form of useful advice). Hot tip: think 'How To…' or 'Top Five Tips For…' or 'Ten Tricks to…'.
Conversion
Think about what sort of content your customers need while they are decided whether or not to buy your product. It might be clear product content, tools that help them select the best type of product, or it could be user-generated content that reassures them that, yes, they are making the right choice.
Pank used English brand M&S to demonstrate best-practice content marketing during the conversion phase. M&S use video content to convert customers. Affectionately known as M&S TV, this video content is integrated into a mobile app, it is played across 70-inch in-store televisions, and it is even available on i-Pads carried by in-store shop assistants. The result: a 25% increase in basket size after watching the videos.
Retention
Use content to add value post-purchase. This content might be ongoing customer support, or perhaps even VIP customer-only content. Whatever the case may be, use content to reassure your customer that they did make the right decision in buying your product. That way, they will be even more likely to recommend you to others.
Iconic British fashion brand Burberry is very effective when it comes to customer retention. One of their newest brainwaves is Smart Personalisation. This content marketing approach has seen the addition of Radio-frequency identification (RFID) chips to all new Burberry bags and coats. These RFID chips can be read by your phone, activating short films showing the genesis of items ordered from the classic British brand's runway show. The videos tell the story of your new fashion item, from design sketches, to runway debut, to a clip of your name being engraved onto a metal nameplate stitched into the lining.
Make Your Content Discoverable
There is absolutely no point in creating scores of ground-breaking, innovative content if no one can find it. Making content discoverable is becoming ever more difficult in today's franticly fast-paced 24-7 media landscape. The sheer volume of content that is now available is astounding. So, to make your content discoverable, you may need to invest in a megaphone, or you may need to embark upon a lengthy game of Chinese whispers. While the approach might vary (specific to your brand), the outcome must remain constant: discoverable content.
Pank encourages content marketers to use a combination of search and content marketing to make content discoverable, just as Viagra did. Pank explained that Viagra was losing sales to cheap imitations flooding the market, and needed to highlight its superior quality product to regain market share. So, Viagra made newsworthy content discoverable in three ways: paid, search and PR. Viagra had a series of decoy displays online that redirected users to YouTube. Cinematic documentary videos were hosted on YouTube, receiving over 1 million views within the first four months. Additional content was made available on interactive experience tools.
Long-Term Thinking
Content marketing is not a short-term solution. A content marketing program should only be embarked upon continuously and at-scale. Pank encouraged brands to move from a 360° approach to a 365 day approach to content marketing.
More and more, brands are adopting the role of 'newsjacker', responding to current events in real-time. When the power went out at last year's Super Bowl, Oreo seized the opportunity, tweeting: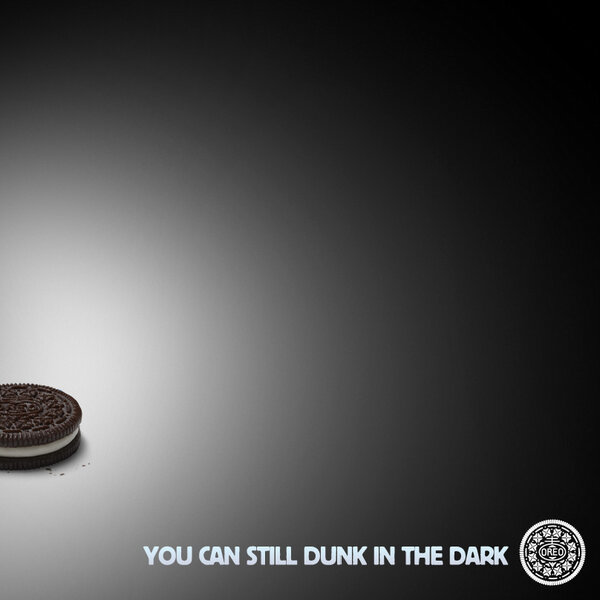 The tweet was retweeted 10,000 times in an hour. It left some people wondering whether this simple tweet was more effective than Oreo's 2013 Super Bowl commercial which cost millions to make.
Then there was Oreo's 100th birthday campaign. Oreo celebrated with Oreos' Daily Twist: a 100-day content drive, with the objective of reimagining pop culture through the eyes of Oreo. Oreo dubbed it 'culture jacking'. Each piece of pop culture was transformed into a piece of content, and then shared as real-time content. They made the content talkable. They made it shareable and discoverable.
As a result, Oreo experienced a market share gain of 4%, for a budget that was 28% less than a traditional multi-media campaign.
Pull, Don't Push
Consumers no longer trust push marketing. Pank believes that brands need to authentic. They need to be useful, entertaining, amusing, inspiring; just like Jet Blue Getaways.
Jet Blue was known for its budget airfares, but not for its holiday packages, hotels and car rental services. With a limited budget, Jet Blue sought to increase awareness of their Getaways within a crowded market. So, they launched Get Away With It.
A live game show broadcast online from New York, anyone could phone in to play and win a holiday on Get Away With It. Jet Blue received more the 42 million total impressions, more than 13,000 contestants signed up, and an average viewing time of more than 10 minutes. Jet Blue Getaway brand awareness increased by 117%.
For more information on Warc, or to sign up for a free trial, visit: www.warc.com/trial/